Yesterday, we attended the FSB Awards for the East Midlands area. We were thrilled to be nominated for The Larger Small Business of the Year award, and the team had a wonderful time attending alongside some brilliant local businesses from our region. We didn't win our category this year, but we were still so thrilled to be nominated against 300 other applicants! The winner of our category, Books 2 Door, was very well deserved, congratulations! 👏
Being nominated for an award was an incredible honor and we are extremely grateful for this recognition. It is a testament to the hard work and dedication of our team, and we are proud to be considered among such esteemed company. We appreciate the opportunity to showcase our achievements and contributions, and we look forward to continuing to strive for excellence in all that we do. Thank you to FSB for this recognition and for your ongoing support!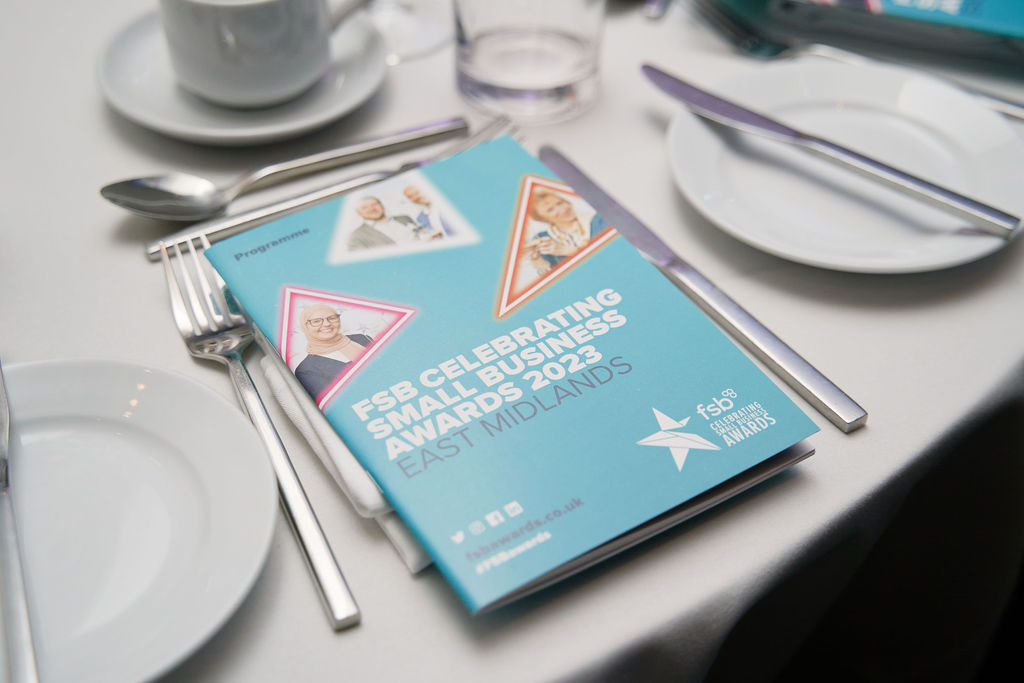 The table was set for a fantastic afternoon!
The awards themselves were been created by the Federation of Small Business to celebrate the achievements and contributions of small businesses and the self-employed across the UK. The Federation of Small Business are a not-for-profit organisation that are committed to supporting small business owners across the UK since 1974. They help businesses with things like insurance, employee management, taxes and more. They are also a strong voice for small business in government.
The awards were held in Leicester, and a few members of our team headed over for the afternoon - don't we scrub up well! 😉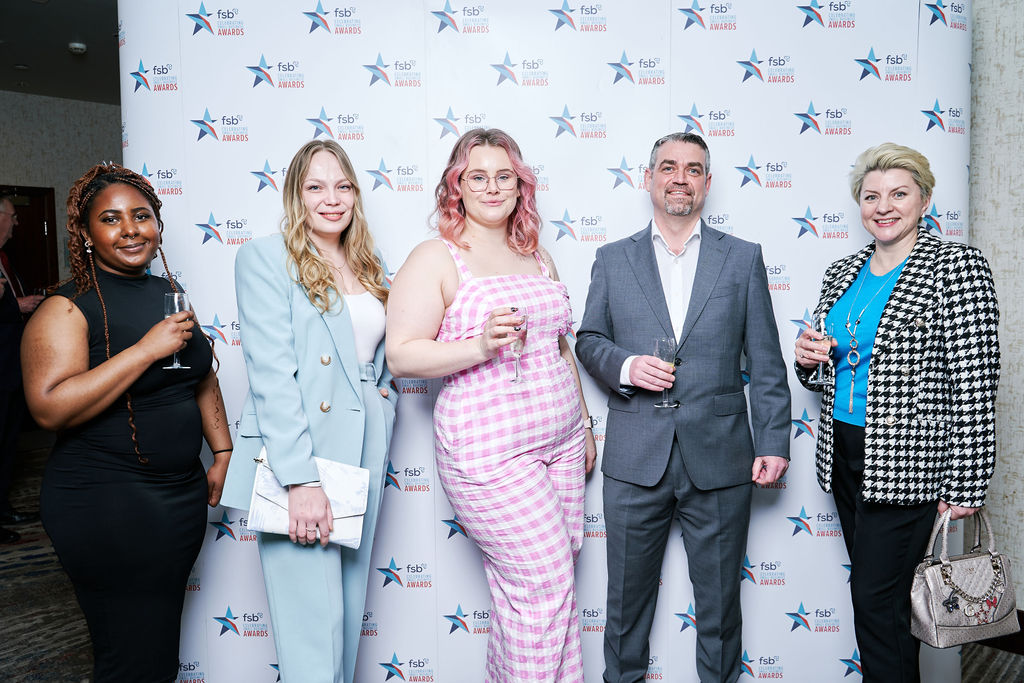 Ready for the awards!

There was a drinks reception on arrival, which allowed us to mingle and network with some of the wonderful businesses up for the awards. We then headed through to the main room, where we sat at our table and enjoyed the afternoon's talks and award ceremony.
We were sat with two other fantastic businesses from the area. One of which was Musgrove and Ball, who were nominated for not one but two awards: Start-Up Business of the Year and the Diversity and Inclusion Award. Musgrove and Ball carry out really important work helping business to educate themselves and their employees on addiction issues. It was insightful talking to Patrick and Sophie about their mission, and we were inspired by their passion and dedication to their cause. Check out their website here!
We also had a great chat with Susan from Virtual Runner, which won the Community Award, congratulations! Virtual Runner is an innovative app that allows you to run at a time and location that suits you whilst supporting a charity. Susan has built up a huge community of runners around the globe that support and champion each other's successes. Check out Virtual Runner here!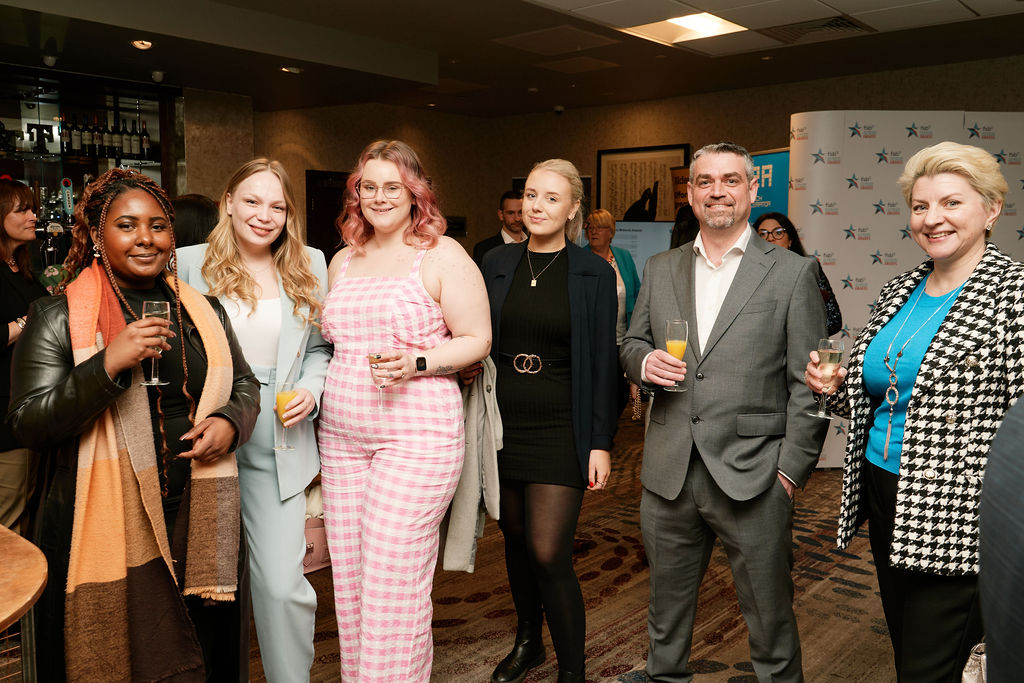 At the drinks reception.
We wanted to say a huge congratulations to all the winners and runners up, it was an amazing achievement to be nominated, let alone win one of the sought after awards! We hope to see everyone again next year!
The Winners:
Micro Business - Sweet lounge
Start-up Business - Magnus Furniture
Exporter - Cellomatics Biosciences Limited
Larger Small Business - books2door.com
Diversity & Inclusion - Communication Unlimited
Business & Production Innovation - TankSpace
Self Employed/Freelancer - Cheer Up Marketing
Service Excellence - CaliPro Software
Young Entrepreneur - Utkarsh Thakkar
Family Business - Pocket Sergeant
Community Award - Virtual Runner
Sustainability - EGO Technology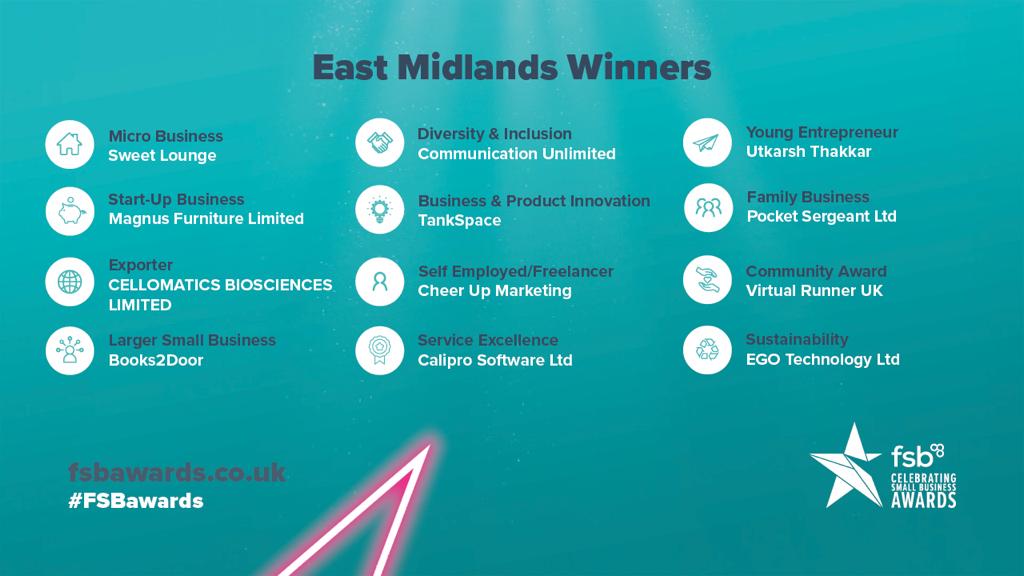 This year's winners!

Learn more about the awards: https://www.fsbawards.co.uk/